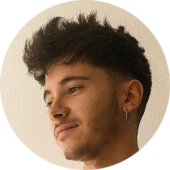 Julian Semiao is an artist-painter born in Lyon in 1996. Graduated with a bachelor's degree in visual arts at the University of Saint-Etienne then a master's degree in contemporary painting at the Parisian University Panthéon Sorbonne, he currently resides in Paris where he works and exhibits regularly.
Always animated by art, he quickly lets himself be caught by the color and artistic ardor of Pablo Picasso, Jean Michel Basquiat, Robert Combas, Keith Haring, Grayson Perry or even Jean Dubuffet. As much influenced by the force of brut art as by the vitality of neo-expressionism and free figuration, he draws his sources of inspiration from a pop art, spontaneous and engaged.His insatiable need to create and paint is felt in his way of apprehending the space of the canvas, which is often found saturated. He shows us his vision of a contemporary society always on the move.
His quest for a primitive vision of painting is a way to seek access to a non-standardized, more authentic, more archetypal representation. Colors, figures and shapes follow one another to embody the mystical beauty of the world around us. In his painting Julian Semiao does not seek to represent tangible reality, he explodes it, deviates it, in order to try to derive a new identity from it.
Very influenced by mythology, past and contemporary, he does not choose his themes and his characters at random. Each element, each individual becomes an allegory that prompts the viewer to question the reality of our society. Minotaurs and other fantastic, mystical and / or allegorical figures follow one another to take us into a committed representation. Her pop and incongruous universe in turn questions current issues such as the place of women, the migrant crisis, religion, consumption or the search for identity.
Contemporary society becomes his greatest source of inspiration: in his compositions, he constantly questions our relationship to others and to the world, always leaving us the possibility of seeing there the reflection of our own imagination.